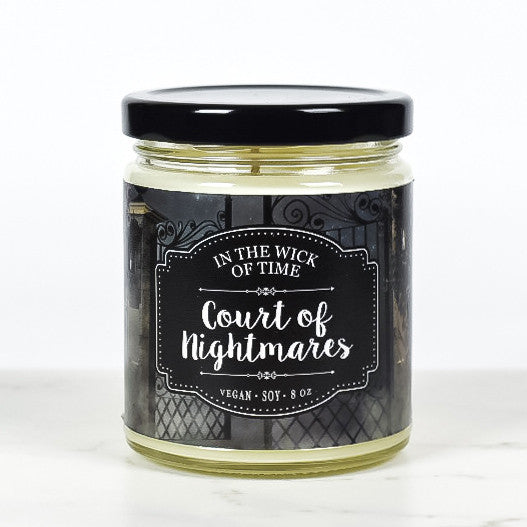 In the Wick of Time
Court of Nightmares Candle
Notes: Jasmine & moonflowers (gardenia)
"Mor led me down the avenue toward another set of stone gates, thrown open at the base of what looked to be a castle within the mountain. The official seat of the High Lord of the Night Court.
Great, scaled black beasts were carved into those gates, all coiled together in a nest of claws and fangs, sleeping and fighting, some locked in an endless cycle of devouring each other. Between them flowed vines of jasmine and moonflowers. I could have sworn the beasts seemed to writhe in the silvery glow of the bobbing faelights throughout the mountain-city. The Gates of Eternity—that's what I'd call the painting that flickered in my mind."
Jasmine and gardenia bring a true floral scent to Hewn City and the Court of Nightmares, a place known for its wickedness.
From A Court of Thorns and Roses, by Sarah J. Maas, © 2015. Artwork by In the Wick of Time. Created with permission of Writers House LLC acting as agent for the author.

In The Wick of Time wax is:
*made from pure 100% soybeans
*USA grown
*Kosher certified
*Cruelty free (Fragrance oil as well)
*Pesticide, herbicide, and toxin free
*Fragrance oils are paraben free

Candle care is easy! Just make sure you're trimming your wick to 1/4 inch before you light it every time (yes, every time!) or pinch off the used black excess wick with your fingers. Always let the candle burn long enough that the whole top is melted to prevent tunneling which wastes your candle. Try not to burn for more than a few hours at a time. Enjoy!

This candle is in a 9 oz jar with 8 oz of product.

Burn Time: Approximately 60 hours
---
Share this Product