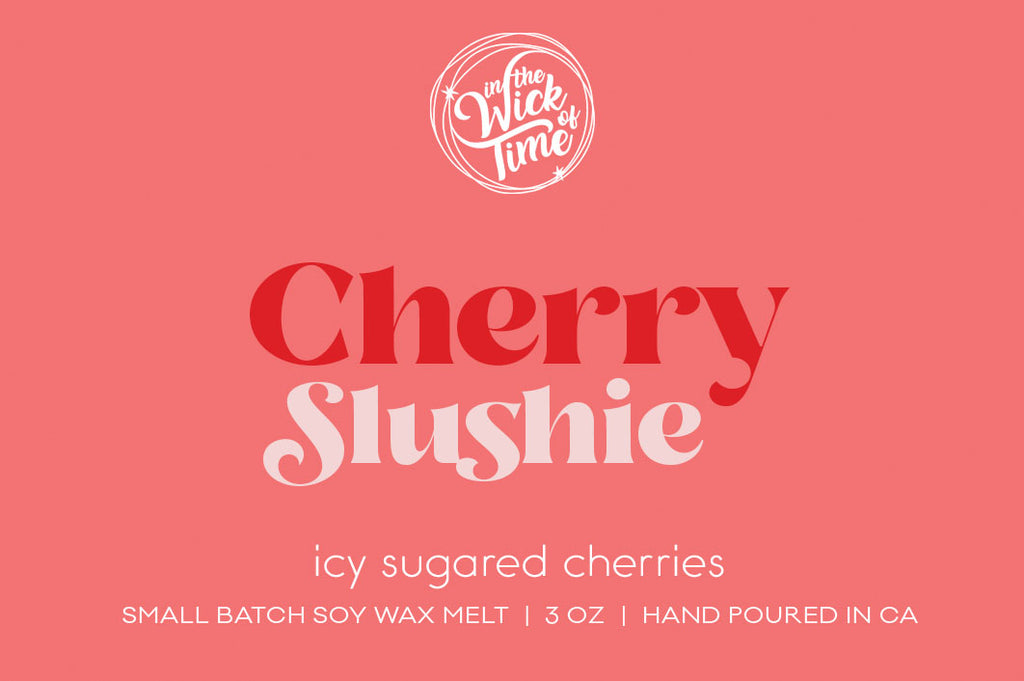 In the Wick of Time
Cherry Slushie Wax Melt
Notes: Cherry Slushie 
 Indulge your senses in the tantalizing allure of our Cherry Slushie scented candle. A deliciously sweet and tangy symphony of ripe cherries fills the air, evoking memories of sipping on frosty cherry slushies on a warm summer day. As the wick flickers, it releases a burst of mouthwatering fragrance that instantly brightens any space.
Immerse yourself in the luscious aroma of plump, juicy cherries, beautifully balanced between sugary sweetness and a refreshing tanginess. Our Cherry Slushie candle is a delightful treat for your senses, capturing the essence of a beloved childhood favorite with a sophisticated twist. Whether you're unwinding after a long day or setting the mood for a cozy evening, this enchanting candle will whisk you away to a blissful world of fruity delight.
This scent is phthalate free.
In The Wick of Time wax is:
*made from pure 100% soybeans
*USA grown
*Kosher certified
*Cruelty free (Fragrance oil as well)
*Pesticide, herbicide, and toxin free
*Fragrance oils are paraben free
HOW TO USE:
Place one or two cubes of the wax into your wax warmer. Experiment mixing and matching your wax melts to create your own custom scent. Enjoy the ability to control the amount of scent you experience, whether that is stronger or softer, by reducing or adding as much as you like!
---
Share this Product