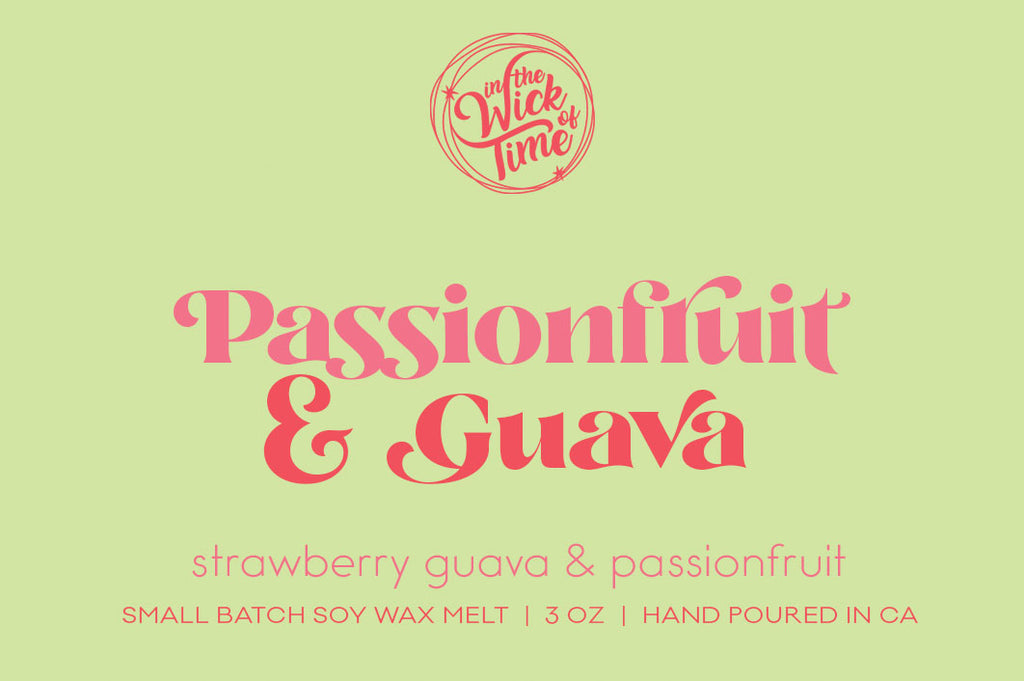 In the Wick of Time
Passionfruit & Guava Wax Melt
Notes: Passionfruit, guava, lily of the valley, strawberry, pineapple, amber, peppercorn 
Experience the allure of our Passionfruit & Guava candle, where a tropical paradise awaits your senses. Immerse yourself in the luscious fusion of sweet, succulent passionfruit and tangy, mouthwatering guava. Enhanced by subtle undertones of juicy pineapple and ripe strawberry, this captivating fragrance brings the essence of a warm weather escape right into your space.
Let the aromatic dance of passionfruit and guava transport you to sun-kissed shores, with each flicker of the flame releasing a symphony of delightful scents. Crafted with care, this candle is infused with natural essential oils, such as zesty orange and aromatic elemi, heightening the sensory experience and adding a touch of sophistication.
Unleash the enchantment of the tropics in the comfort of your home with our Passionfruit & Guava candle—a blissful and rejuvenating journey for your senses.
This scent is phthalate free.
In The Wick of Time wax is:
*made from pure 100% soybeans
*USA grown
*Kosher certified
*Cruelty free (Fragrance oil as well)
*Pesticide, herbicide, and toxin free
*Fragrance oils are paraben free

HOW TO USE:
Place one or two cubes of the wax into your wax warmer. Experiment mixing and matching your wax melts to create your own custom scent. Enjoy the ability to control the amount of scent you experience, whether that is stronger or softer, by reducing or adding as much as you like!
---
Share this Product