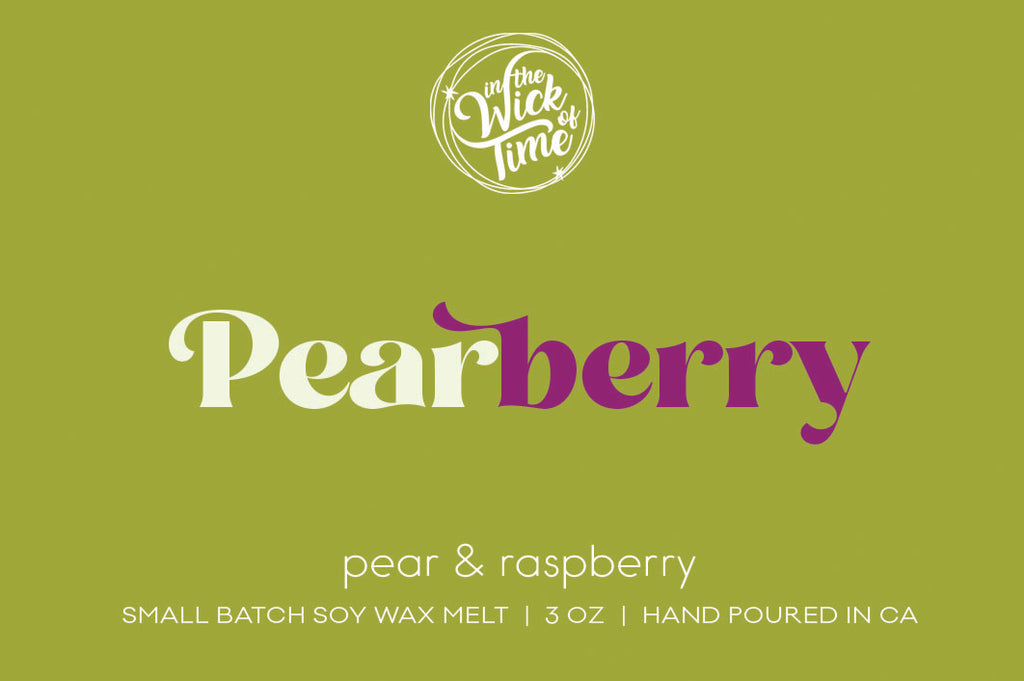 In the Wick of Time
Pearberry Wax Melt
Notes: pear, apple, raspberry, gooseberry, melon, gardenia, grass 
Pearberry is delightful blend of ripe pear, juicy raspberries, sweet strawberries, and tangy gooseberries, with a touch of subtle musk undertones. This candle brings a casual and fun-filled atmosphere to any space. Imagine taking a stroll through a sunny orchard, plucking the most delectable fruits straight from the trees. That's the essence of Pearberry! Light it up to infuse your surroundings with a burst of fruity joy. Whether you're hosting a laid-back gathering with friends or simply relaxing after a long day, Pearberry sets the perfect mood for laughter and relaxation. Embrace the playful charm and sweetness of Pearberry - a true fruity sensation!
This scent is not phthalate free.
In The Wick of Time wax is:
*made from pure 100% soybeans
*USA grown
*Kosher certified
*Cruelty free (Fragrance oil as well)
*Pesticide, herbicide, and toxin free
*Fragrance oils are paraben free

HOW TO USE:
Place one or two cubes of the wax into your wax warmer. Experiment mixing and matching your wax melts to create your own custom scent. Enjoy the ability to control the amount of scent you experience, whether that is stronger or softer, by reducing or adding as much as you like!
---
Share this Product