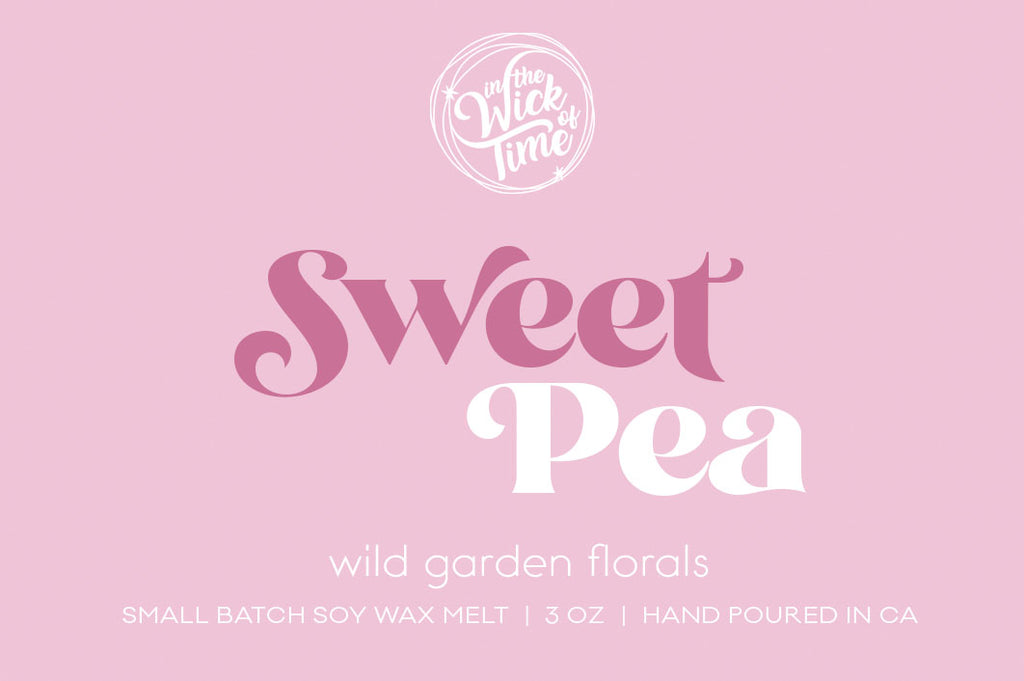 In the Wick of Time
Sweet Pea Wax Melt
Notes: sweet pea, hyacinth, lily of the valley, violets, wild jasmine 
Introducing our Sweet Pea candle, an enchanting ode to the English garden. Immerse yourself in a delicate bouquet of hyacinth, lily of the valley, violets, and wild jasmine, harmoniously intertwined to create a blissful and refreshing aroma. With every flicker, you'll be transported to a sunlit garden, where the gentle breeze carries the sweet scents of these blossoms.
Underlying this captivating floral symphony, subtle hints of light herbal and musky notes provide a soothing depth, elevating the fragrance to new levels of sophistication. Embrace the essence of nature's most charming blooms in a single, hand-poured creation that brightens any space and fills your surroundings with the essence of springtime bliss.
This scent is phthalate free.

In The Wick of Time wax is:
*made from pure 100% soybeans
*USA grown
*Kosher certified
*Cruelty free (Fragrance oil as well)
*Pesticide, herbicide, and toxin free
*Fragrance oils are paraben free
HOW TO USE:
Place one or two cubes of the wax into your wax warmer. Experiment mixing and matching your wax melts to create your own custom scent. Enjoy the ability to control the amount of scent you experience, whether that is stronger or softer, by reducing or adding as much as you like!
---
Share this Product