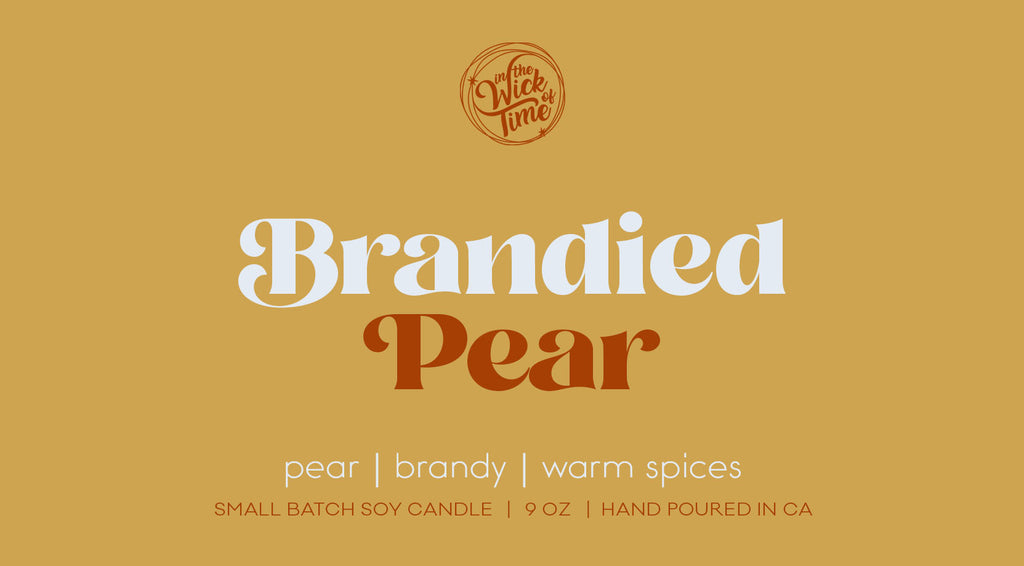 In the Wick of Time
Brandied Pear Candle | 9 oz
Notes: pear, apple cider, clove, cinnamon, brandy
Say hello to our Brandied Pear candle – it's like the cozy autumn orchard you never want to leave. Imagine the juicy sweetness of pears hanging out with apple cider, clove, cinnamon, and just a touch of brandy. It's like the ultimate fall get-together, right in your space. Light this candle and let the inviting aroma fill the air, creating a laid-back atmosphere that's perfect for chilling after a busy day. So whether you're binge-watching your favorite show or catching up on that book, let the Brandied Pear candle add that extra touch of relaxed charm to your vibe.

This scent is phthalate free

In The Wick of Time wax is:
*made from pure 100% soybeans
*USA grown
*Kosher certified
*Cruelty free (Fragrance oil as well)
*Pesticide, herbicide, and toxin free
*Fragrance oils are paraben free

Candle care is easy! Just make sure you're trimming your wick to 1/4 inch before you light it every time (yes, every time!) or pinch off the used black excess wick with your fingers. Always let the candle burn long enough that the whole top is melted to prevent tunneling which wastes your candle. Try not to burn for more than a few hours at a time.
Wax patterns and shades may slightly vary. Frosting may or may not occur, it is the nature of soy wax and not considered a defect. 

This candle is in a 9 oz jar with 8 oz of product.

Burn Time: Approximately 60 hours
---
Share this Product