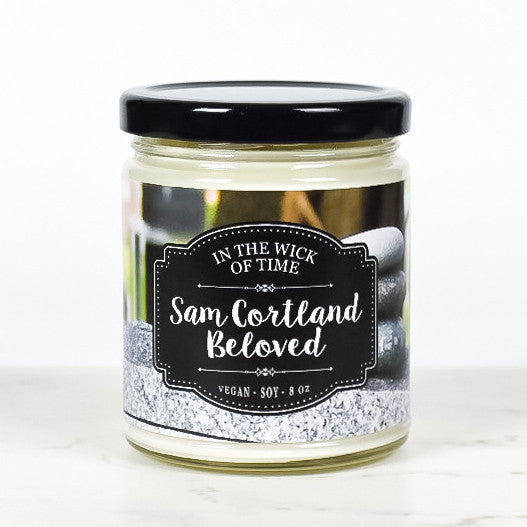 In the Wick of Time
Sam Cortland Candle
Notes: Oakmoss, amber, lavender, eucalyptus, spearmint
*SPOILER ALERT*
*ASSASSINS BLADE AND BOOK 1 and 4 THRONE OF GLASS SPOILERS AHEAD*
*I MEAN IT!*
"She opened her fist of pebbles and picked out the three loveliest - two for the years since he'd been taken from her, one for what they'd been together. Carefully, she placed them at the apex of the headstone's curve."
Sam's storyline is arguably the most tragic in the entire Throne of Glass series. This candle smells of oakmoss to represent the oak trees that surrounded Sam's grave, Celaena's expensive lavender soap that Sam favored, and a hint of the soap she made him use instead which she later regretted. Together they create a masculine, clean scent that brings Sam a little bit back to life again.
From Throne of Glass, by Sarah J. Maas, © 2012. Artwork by In the Wick of Time. Created with permission of Writers House LLC acting as agent for the author.

This scent is phthalate free.

In The Wick of Time wax is:
*made from pure 100% soybeans
*USA grown
*Kosher certified
*Cruelty free (Fragrance oil as well)
*Pesticide, herbicide, and toxin free
*Fragrance oils are paraben free

Candle care is easy! Just make sure you're trimming your wick to 1/4 inch before you light it every time (yes, every time!) or pinch off the used black excess wick with your fingers. Always let the candle burn long enough that the whole top is melted to prevent tunneling which wastes your candle. Try not to burn for more than a few hours at a time. Enjoy!

This candle is in a 9 oz jar with 8 oz of product.

Burn Time: Approximately 60 hours
---
Share this Product
Sam Cortland Review
TOG is one of my favorite series of all time (and SJM's best IMO). I also love Sam and his relationship with Aelin and wished that they (and we as readers) had more time with him. This candle is the perfect blend of what I imagine Sam to smell like as well as what I like to light when I read the series (or specifically Assassin's Blade).