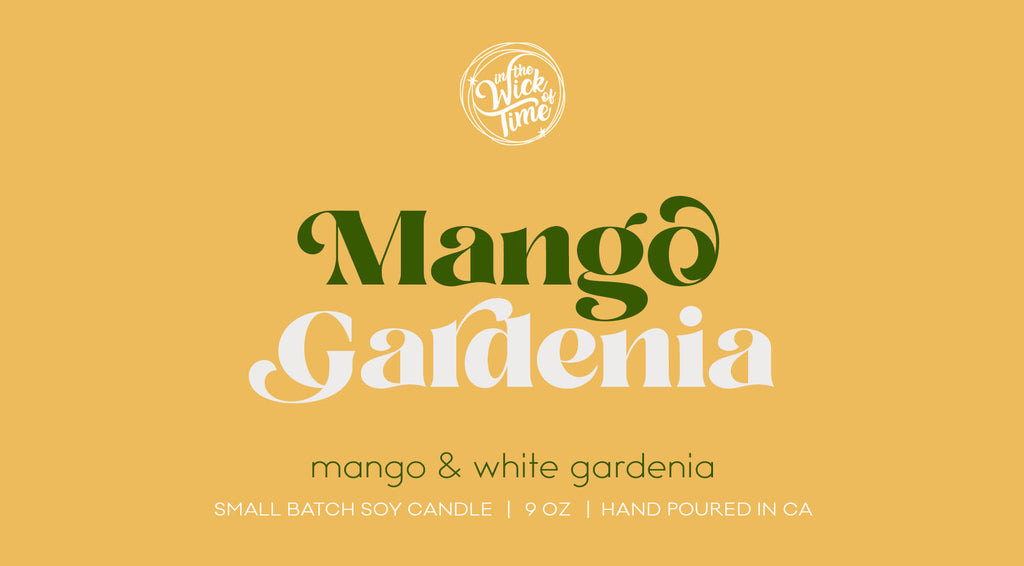 In the Wick of Time
Mango Gardenia Candle
Notes: mango, gardenia, coconut, peach, tonka bean
Introducing the tropical paradise in a candle – Mango Gardenia! Prepare to be whisked away to a sun-kissed island bursting with fruity delight and blooming flowers. This scent is the ultimate vacation in a jar, filled with luscious mangoes and sweet gardenias dancing hand in hand.
Picture yourself sipping coconut cocktails under swaying palm trees while the irresistible aroma of peaches tickles your nose. Just when you thought it couldn't get any better, the light musk and tonka bean embrace you like a warm, sandy hug, making you feel right at home in this fragrant oasis.
Indulge in the fusion of playful and sophisticated notes, creating a harmony that will turn any space into your personal tropical sanctuary. Mango Gardenia: the candle that brings paradise to your senses! Get ready to escape without ever leaving your cozy corner.
This scent is phthalate free.

In The Wick of Time wax is:
*made from pure 100% soybeans
*USA grown
*Kosher certified
*Cruelty free (Fragrance oil as well)
*Pesticide, herbicide, and toxin free
*Fragrance oils are paraben free

Candle care is easy! Just make sure you're trimming your wick to 1/4 inch before you light it every time (yes, every time!) or pinch off the used black excess wick with your fingers. Always let the candle burn long enough that the whole top is melted to prevent tunneling which wastes your candle. Try not to burn for more than a few hours at a time. Enjoy!

This candle is in a 9 oz jar with 8 oz of product.

Burn Time: Approximately 60 hours
---
Share this Product