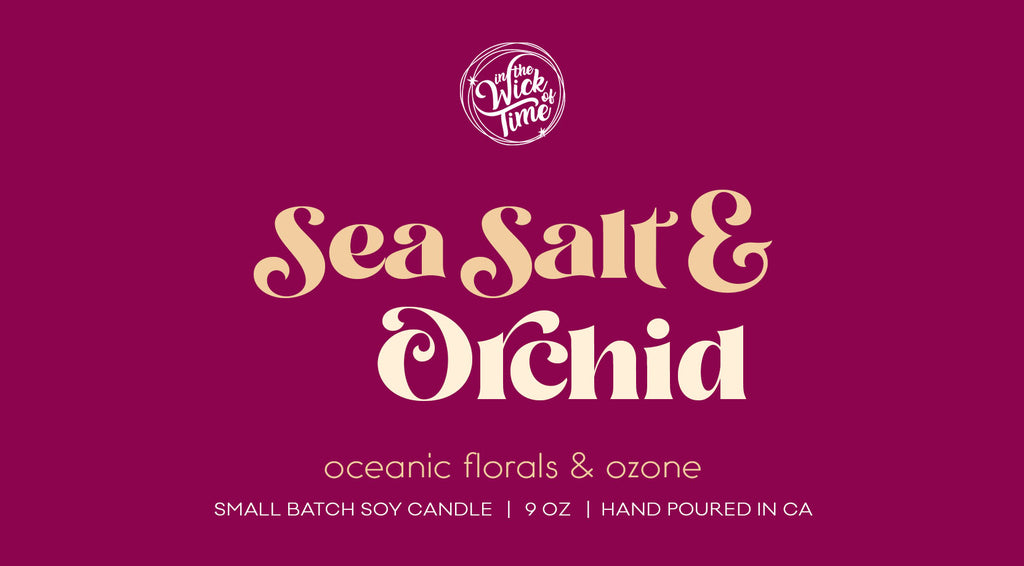 In the Wick of Time
Sea Salt & Orchid Candle
Notes: sea salt, orchid, ozone, orange, freesia, green leaves, light musk 
Indulge in the serene and sophisticated aroma of our Sea Salt & Orchid candle. Embrace the tranquility as soft floral notes and marine highlights fill the air.
At the start, you'll be greeted by a crisp ozonic top note, evoking the freshness of the sea. The heart of the fragrance blends sea salt, lush green leaves, and freesia, creating a captivating floral bouquet.
As the candle burns, you'll feel the calming presence of the base notes: tonka bean, amber, and a hint of musk, soothing your senses with their warm embrace.
To enhance the experience, we've infused this fragrance with essential oils, including sweet orange peel, lemon, eucalyptus, and clove leaf.
Unwind and let the Sea Salt & Orchid candle whisk you away to a moment of tranquility and bliss. Find solace in the gentle waves of its enchanting scent. 🌊🕯️
This scent is phthalate free.

In The Wick of Time wax is:
*made from pure 100% soybeans
*USA grown
*Kosher certified
*Cruelty free (Fragrance oil as well)
*Pesticide, herbicide, and toxin free
*Fragrance oils are paraben free

Candle care is easy! Just make sure you're trimming your wick to 1/4 inch before you light it every time (yes, every time!) or pinch off the used black excess wick with your fingers. Always let the candle burn long enough that the whole top is melted to prevent tunneling which wastes your candle. Try not to burn for more than a few hours at a time. Enjoy!

This candle is in a 9 oz jar with 8 oz of product.

Burn Time: Approximately 60 hours
---
Share this Product