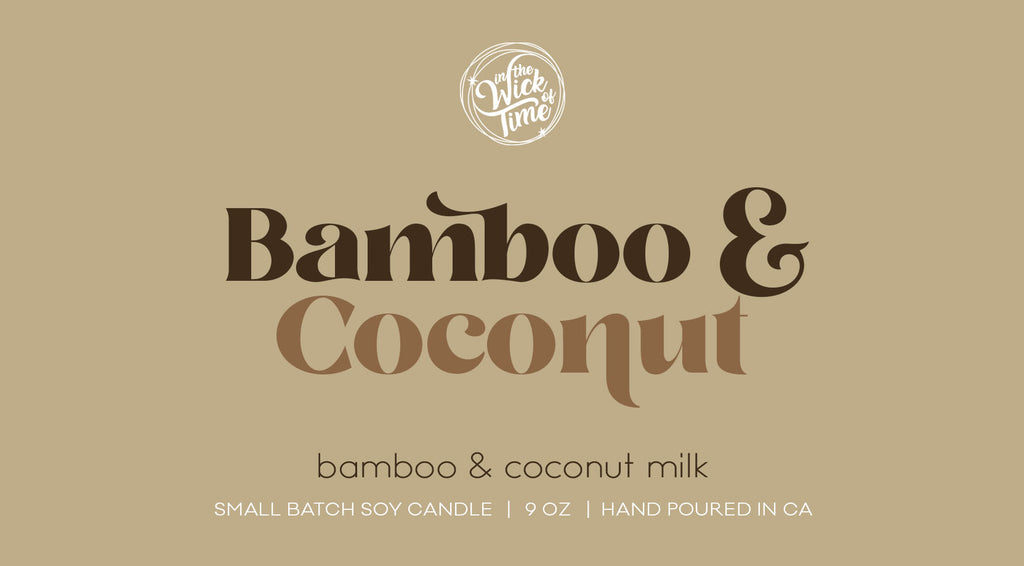 In the Wick of Time
Bamboo & Coconut Candle
Notes: bamboo, coconut, spearmint, pineapple, green florals 
Get ready to be swept away by the amazing Bamboo & Coconut fragrance! It's like a luxurious vacation for your senses with the fresh bamboo and velvety coconut blending together in perfect harmony. Close your eyes, and you'll feel like you're chilling in a fancy spa, surrounded by pure relaxation vibes.
No matter the season, this scent is always up for a good time. Each sniff brings you a delightful mix of natural essential oils like lemon, cedarwood, eucalyptus, lavandin, patchouli, and spearmint. It's a party for your nose!
So why wait? Unveil the laid-back luxury of Bamboo & Coconut, and let it transform your space into a chill zone of tranquility and pure good vibes. Your senses will thank you!
This scent is phthalate free.

In The Wick of Time wax is:
*made from pure 100% soybeans
*USA grown
*Kosher certified
*Cruelty free (Fragrance oil as well)
*Pesticide, herbicide, and toxin free
*Fragrance oils are paraben free

Candle care is easy! Just make sure you're trimming your wick to 1/4 inch before you light it every time (yes, every time!) or pinch off the used black excess wick with your fingers. Always let the candle burn long enough that the whole top is melted to prevent tunneling which wastes your candle. Try not to burn for more than a few hours at a time. Enjoy!

This candle is in a 9 oz jar with 8 oz of product.

Burn Time: Approximately 60 hours
---
Share this Product