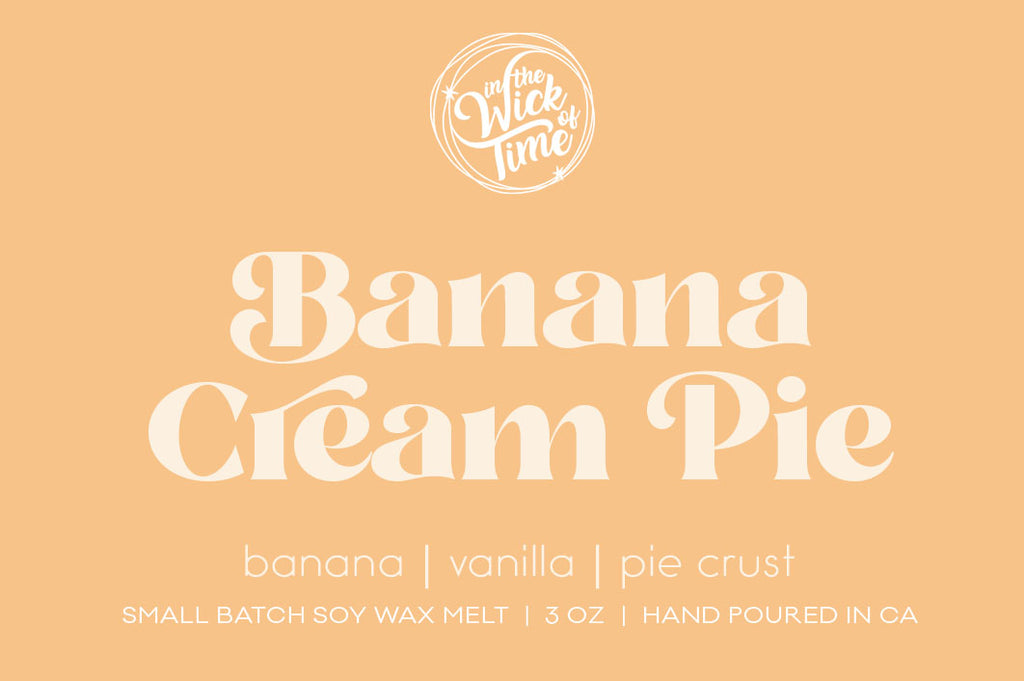 In the Wick of Time
Banana Cream Pie Wax Melt
Notes: banana, vanilla whipped cream, and pie crust
Banana Cream Pie is a slice of pure delight. A freshly baked pie with creamy banana goodness and a buttery crust. This candle captures that mouthwatering essence perfectly. Close your eyes and let the aroma transport you to a cozy kitchen, where the scent of ripe bananas and sweet vanilla swirl in the air. Light up this candle and let the comforting fragrance create a space that's as inviting as a homemade dessert. Whether you're unwinding after a busy day or simply craving a cozy moment, the Banana Cream Pie candle is here to whisk you away to a world of indulgence.
This scent is phthalate free
In The Wick of Time wax is:
*made from pure 100% soybeans
*USA grown
*Kosher certified
*Cruelty free (Fragrance oil as well)
*Pesticide, herbicide, and toxin free
*Fragrance oils are paraben free
Wax patterns and shades may slightly vary. Frosting may or may not occur, it is the nature of soy wax and not considered a defect. 

HOW TO USE:
Place one or two cubes of the wax into your wax warmer. Experiment mixing and matching your wax melts to create your own custom scent. Enjoy the ability to control the amount of scent you experience, whether that is stronger or softer, by reducing or adding as much as you like!
---
Share this Product