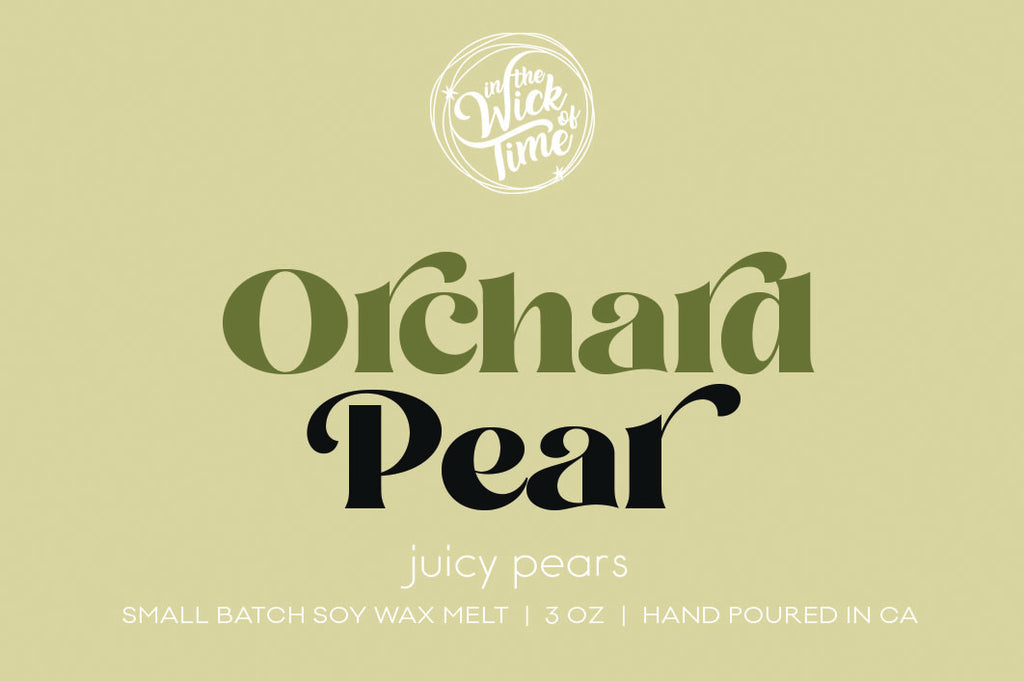 In the Wick of Time
Orchard Pear Wax Melt
Notes: pear, apple, citrus, sugar, musk, wood, benzoin
Welcome to the enchanting world of Orchard Pear! Step into an orchard in full bloom and experience the delightful ambiance of ripe, succulent pears surrounding you. Close your eyes, and you'll feel the gentle rustle of leaves and the warmth of the sun on your skin.
This whimsical candle captures the essence of a luscious orchard, offering a playful symphony of delicate pear notes dancing in the air. The scent is expertly blended with hints of wood and a touch of sweetness, taking you on a sensory journey through a vibrant and lively fruit garden.
Infused with essential oils of orange peel, lemon peel, lemon oil, nutmeg, and lime oil, Orchard Pear invigorates your senses, just like wandering through rows of flourishing pear trees. Light it up, and watch as the magic unfolds, creating a space filled with joy, relaxation, and the spirit of an abundant orchard. Embrace the charm of Orchard Pear, and let the orchard vibes take you on a delightful escape!
This scent is phthalate free.
In The Wick of Time wax is:
*made from pure 100% soybeans
*USA grown
*Kosher certified
*Cruelty free (Fragrance oil as well)
*Pesticide, herbicide, and toxin free
*Fragrance oils are paraben free

HOW TO USE:
Place one or two cubes of the wax into your wax warmer. Experiment mixing and matching your wax melts to create your own custom scent. Enjoy the ability to control the amount of scent you experience, whether that is stronger or softer, by reducing or adding as much as you like!
---
Share this Product