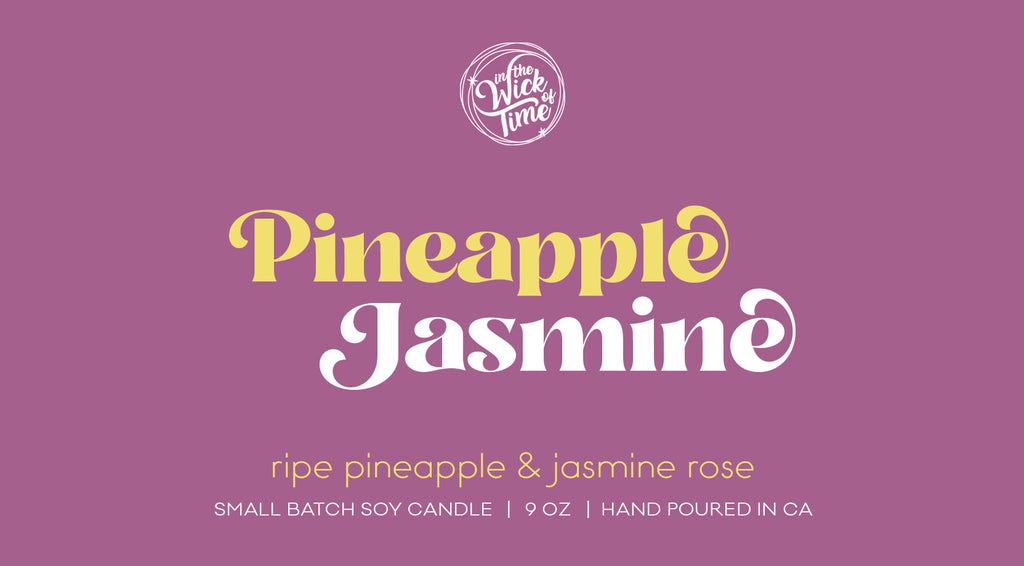 In the Wick of Time
Pineapple Jasmine Candle
Notes: pineapple, jasmine, pear, apple, fern, clover, rose 
Welcome to the tropical paradise of our Pineapple Jasmine candle! Get ready to be enchanted by this creatively crafted fragrance, designed to transport your senses to a blissful oasis.
At the very top, you'll experience a burst of ripened pineapples, juicy pears, and crisp apples – a fruity delight that's as refreshing as a sip of a beachside cocktail.
As you venture deeper into this aromatic journey, you'll encounter the lush greenery of ferns and clover in the middle notes, evoking the feeling of strolling through a sun-kissed garden.
But the real magic lies in the bottom notes of jasmine and rose petals. These captivating florals infuse the fragrance with elegance and allure, adding a touch of romance to the tropical adventure.
Prepare to be mesmerized by the complexity of Pineapple Jasmine. It's a harmonious symphony of scents that will captivate your senses and transport you to a dreamy paradise with every flicker of the wick. Light it up and embark on a fragrant journey like no other! 🍍🌺🕯️
This scent is phthalate free.

In The Wick of Time wax is:
*made from pure 100% soybeans
*USA grown
*Kosher certified
*Cruelty free (Fragrance oil as well)
*Pesticide, herbicide, and toxin free
*Fragrance oils are paraben free

Candle care is easy! Just make sure you're trimming your wick to 1/4 inch before you light it every time (yes, every time!) or pinch off the used black excess wick with your fingers. Always let the candle burn long enough that the whole top is melted to prevent tunneling which wastes your candle. Try not to burn for more than a few hours at a time. Enjoy!

This candle is in a 9 oz jar with 8 oz of product.

Burn Time: Approximately 60 hours
---
Share this Product