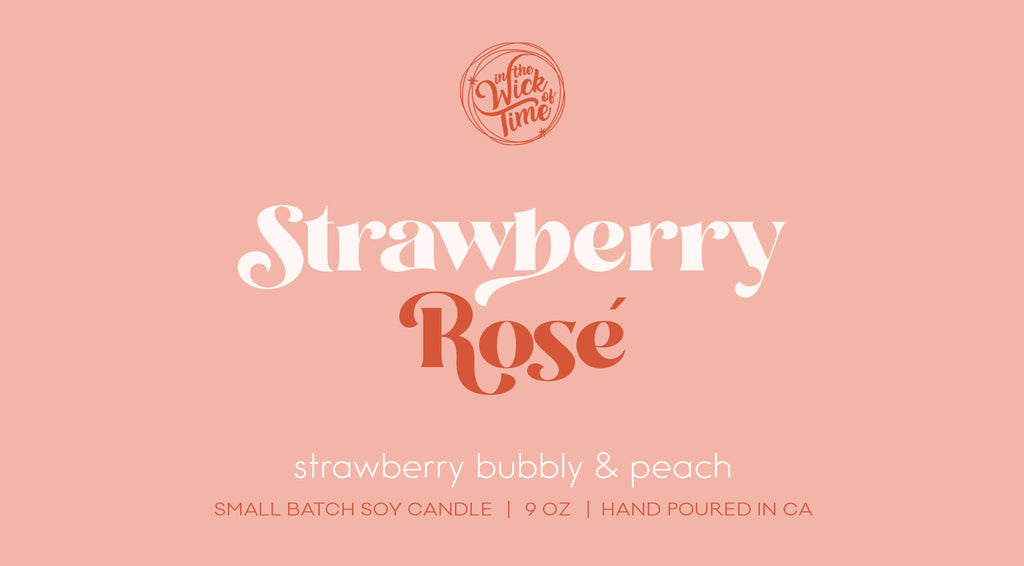 In the Wick of Time
Strawberry Rosé Candle
Notes: strawberry, bubbles, raspberry, peach, musk, vanilla
Indulge in the delightful allure of Strawberry Rosé, a candle that encapsulates the essence of pure bliss. Envision a whimsical symphony of flavors as luscious strawberries, drenched in sugary effervescence, dance harmoniously with the tangy embrace of raspberries and the succulent juiciness of ripe peaches.
With each gentle flicker, the air becomes infused with the sweet nostalgia of summer, filling the room with a playful, bubbly aura. As the fragrance swirls around, notes of vanilla and velvety musk embrace the fruity medley, grounding it with a soft, creamy undertone.
The Strawberry Rosé candle casts an inviting glow that complements any ambiance, making it the perfect companion for moments of relaxation and joyous celebration. Embrace this enchanting concoction that captures the essence of a sun-kissed picnic in a whimsical garden, and let the magic of its aroma transport you to a world of delightful fruity fantasies.
This scent is phthalate free.

In The Wick of Time wax is:
*made from pure 100% soybeans
*USA grown
*Kosher certified
*Cruelty free (Fragrance oil as well)
*Pesticide, herbicide, and toxin free
*Fragrance oils are paraben free

Candle care is easy! Just make sure you're trimming your wick to 1/4 inch before you light it every time (yes, every time!) or pinch off the used black excess wick with your fingers. Always let the candle burn long enough that the whole top is melted to prevent tunneling which wastes your candle. Try not to burn for more than a few hours at a time. Enjoy!

This candle is in a 9 oz jar with 8 oz of product.

Burn Time: Approximately 60 hours
---
Share this Product