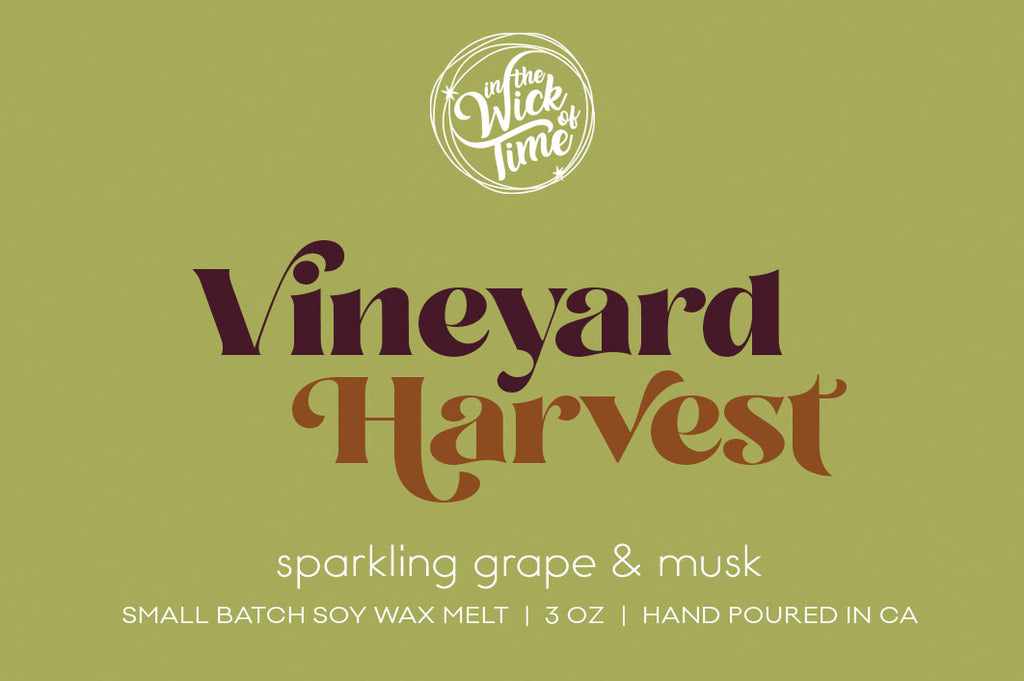 In the Wick of Time
Vineyard Harvest Wax Melt
Notes: strawberry, sparkling citrus, grape, candied orange, sugar, musk 
Our Vineyard Harvest candle is the ultimate olfactory delight that'll transport you straight to a sun-soaked vineyard party! You're lounging in the shade of lush grapevines, sipping sparkling citrus-infused strawberry cocktails while candied oranges tickle your senses. This candle captures the essence of a delightful vineyard gathering, minus the fuss of actually getting there!
At first whiff, you'll be greeted with a burst of juicy strawberries and zesty citrus, evoking the feeling of plucking ripe fruits straight from the vine. As you light it up, the heart of the candle fills the air with the rich aroma of freshly harvested grapes and the lingering sweetness of candied oranges. But the real magic happens at the base, where a perfect blend of sugary goodness and musk wrap everything up in a warm, comforting embrace.
So, whether you want to relive the magic of a memorable vineyard experience or create a cozy atmosphere at home, our Vineyard Harvest candle is your go-to choice. Pop it open, light it up, and let the fruity, earthy, and sugary symphony dance around your senses, making any moment a delightful celebration!
This scent is phthalate free.
In The Wick of Time wax is:
*made from pure 100% soybeans
*USA grown
*Kosher certified
*Cruelty free (Fragrance oil as well)
*Pesticide, herbicide, and toxin free
*Fragrance oils are paraben free
HOW TO USE:
Place one or two cubes of the wax into your wax warmer. Experiment mixing and matching your wax melts to create your own custom scent. Enjoy the ability to control the amount of scent you experience, whether that is stronger or softer, by reducing or adding as much as you like!
---
Share this Product