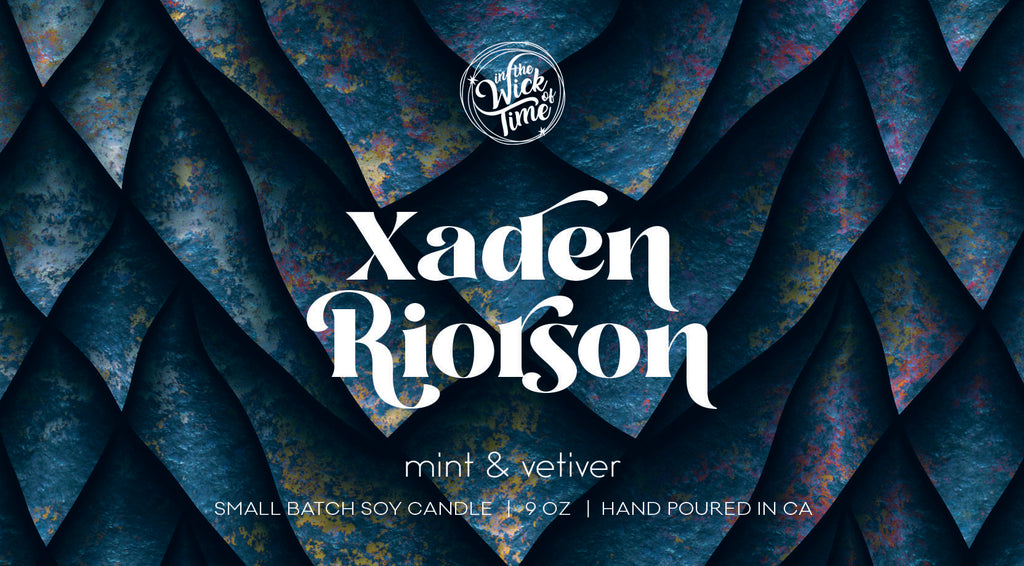 In the Wick of Time
Xaden Riorson Candle | 9 oz
Notes: mint, bergamot, vetiver
"I don't want to be grateful for anything when it comes to him, but man if that minty smell of his isn't delicious." - Fourth Wing, Ch. 19
Introducing our new favorite bad boy dragon rider, Xaden Riorson, from the captivating world of Fourth Wing! Burning this candle fills the air with a tantalizing blend of fresh mint, earthy vetiver, and zesty bergamot. Imagine Xaden returning from a day of riding Sgaeyl and hopping in the shower. This scent is fresh, invigorating, and comforting. 
Please allow up to a max of 3 week for domestic orders to receive this product!

This candle wax is white with minty colored swirls.
In The Wick of Time wax is:
*made from pure 100% soybeans
*USA grown
*Kosher certified
*Cruelty free (Fragrance oil as well)
*Pesticide, herbicide, and toxin free
*Fragrance oils are paraben free

Candle care is easy! Just make sure you're trimming your wick to 1/4 inch before you light it every time (yes, every time!) or pinch off the used black excess wick with your fingers. Always let the candle burn long enough that the whole top is melted to prevent tunneling which wastes your candle. Try not to burn for more than a few hours at a time. Enjoy!

This candle is in a 9 oz jar with 8 oz of product.

Burn Time: Approximately 60 hours
---
Share this Product